Description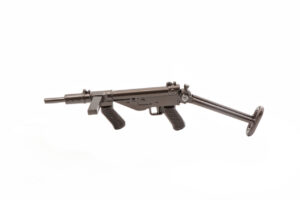 A fantastic miniature replica.
The Austen MK I was the Australian-designed World War II Submachine Gun based on the British Sten Gun. Manufactured as a response to demands for a submachine gun that could not be met by British and American allies, these submachine guns were issued to Australian troops until 1945. A wonderful miniature replica, perfect as a stand-alone or create a collection with our selection of other miniature weaponry.
Specification of the original:
Issued from 1942-1945
Conflicts: World War II
Weight: 3.98kg empty
Length: 732mm
Calibre: 9mm (9×19)
Rate of fire: 120-500 rpm
Muzzle Velocity: 366 m/s
Feed: 28 Round Box Magazine
Effective range: 70m
Specifications:
Material: Die-cast zinc alloy, nickel/copper plated.
Size: 1/6th scale miniature. 122mm.