Description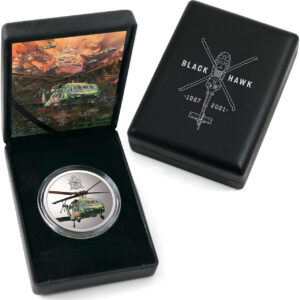 The proof-quality medallion that brings the Black Hawk to you.
Featuring the leading S-70A-9 Black Hawk from Drew Harrison's powerful artwork, this fantastic medallion is perfect for adding to your collection and commemorating this outstanding aircraft. With the Australian Army Aviation Corps badge featured on the front and a highly detailed schematic of the aircraft on the reverse, this medallion is not to be missed.
Commemorate the end of service for this sensational aircraft and secure one of only 500 limited edition medallions now.
Specifications:
Limited to only 500 releases worldwide
Material: Brass Alloy with Silver Plate. Full-colour overlay
Finish: Polished silver
Size: 50mm x 4.5mm